NOW YOU CAN MAKE ONLINE PURCHASES AND BANKING OPERATIONS WITHOUT ANY RISK.
Fake or counterfeit websites are one of the oldest sources of hacking. Avast Premium Security scans websites for security risks on both your PC and mobile phone – so you can finally shop and bank online securely on any device.
Avast Premium Security keeps you protected by automatically redirecting you to safe sites and ensuring that you never open a counterfeit website. It also protects you against hacked routers that use bogus DNS settings to send you to spoofed websites. Over the years, fake websites are getting more sophisticated. For example, a hacker can spoof DNS in order to create a malicious duplicate of a legitimate shopping or banking website. The goal is to trick the user into typing in their credit card details or bank login information on the fake site. Thus, without realizing it, we give our confidential information to strangers.
EVITE SER VÍCTIMA DE LA EXTORSIÓN DIGITAL.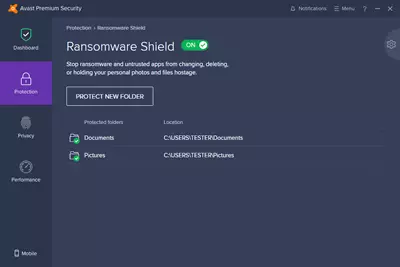 Ransomware is fast becoming one of the most common and dangerous types of malware out there. Avast Premium Security offers full protection to all your devices against the destructive power of ransomware so that you do not fall prey to digital extortion. Ransomware is the digital equivalent of a hostage-taking situation. Hackers use ransomware to encrypt personal files on the computer or on the phone, preventing the user from accessing them until they pay a ransom. Avast Premium Security blocks ransomware before it can even get close to files, let alone encrypt them. And don't worry: you will be able to access all your files (documents, photos, etc.) and use them as usual. Ransomware protection does its job discreetly in the background.